Yeditepe University Management Application and Research Center (MARC)
 CES II- Circular Economy Series II: International Conference
18-19 November 2022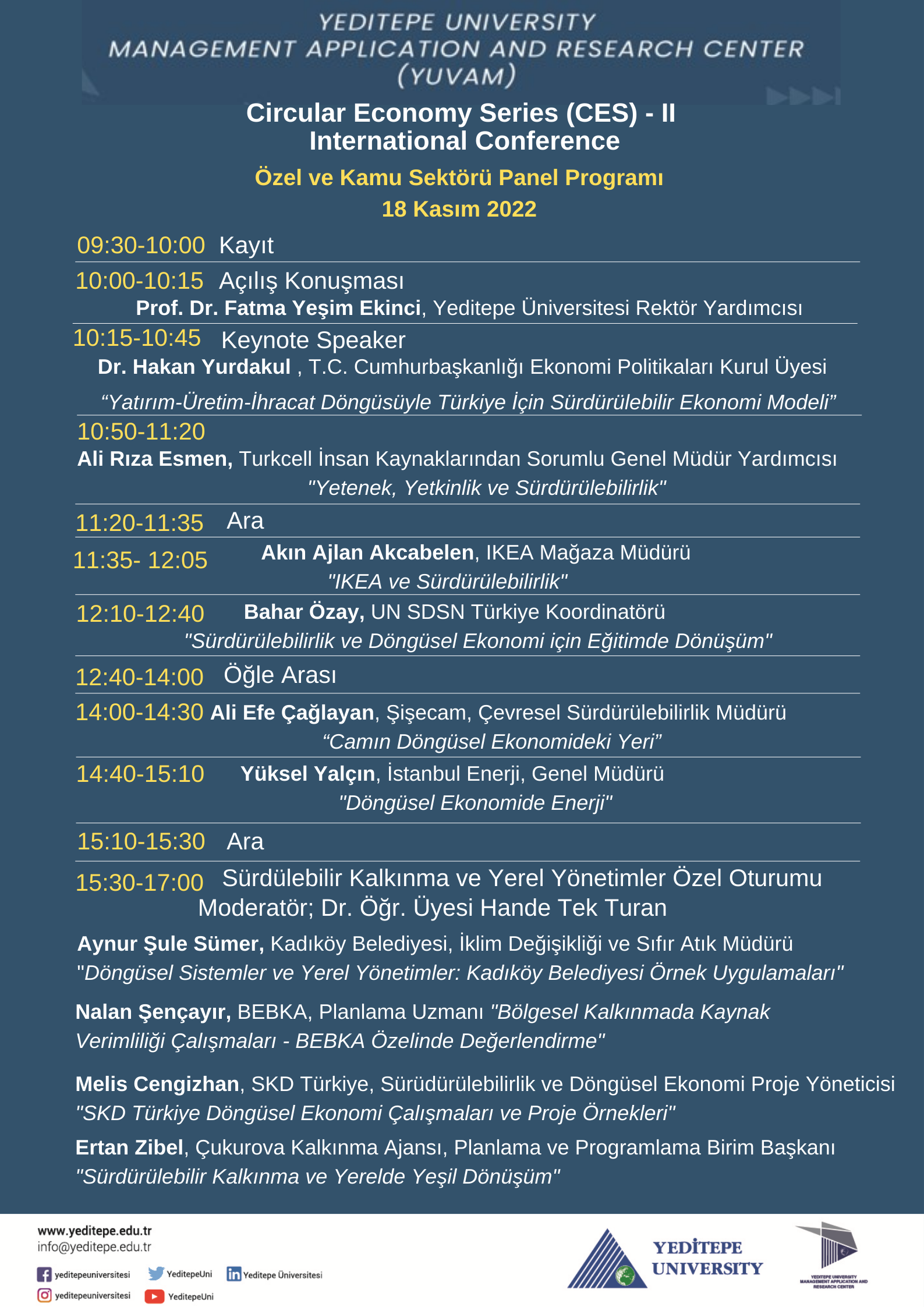 Keynote Speakers;
Dr. Hakan Yurdakul
Board Member at Presidency of the Republic of Turkey - Board of Economic Policies
**Additional keynote speakers will be announced soon.
Circular economy is an economic system that focuses on the elimination of waste and on the continual use of resources. Inputs for new products come from used products, all resources are used more efficiently by being used more than once. A lifespan of a product is extended in the circular economy by reallocating waste from the end to the beginning of the supply chain. The basis of the circular economy study is a transition to renewable energy sources. Main principles of the circular economy are design out waste and pollution, keep products and materials in use and regenerate natural systems.
Sustainability is the study on continual existence of different systems. Sustainability refers to the use of resources without compromising the usage of these resources by future generations. The main principles of sustainability are based on economic, environmental and social systems. At the same time study of sustainability focuses on how natural systems function and keep the ecology in balance.
The primary principle of reaching the goals of sustainability is the efficient functioning of circular economy. The interaction of the circular economy and sustainability combines disciplines of economy, management, engineering, technology, environment and society. Interdisciplinary studies are important pieces in puzzles of solving environmental problems and of improving technological methods for the sustainable development of our world.
Call for Papers and Participation
We invite academic researchers, company managers and public policy makers to participate in and contribute to this conference to discuss the circular economy and sustainability issues. The interaction of these two disciplines may be organized in 3 main groups. Studies are not limited to the covered topics in the list:
Micro-level includes studies at the firm-level, which are referred to technological and managerial issues like circular economy business models, sustainable entrepreneurship, circular economy start-ups, sustainable management strategies, clean technologies, solutions for ecological balance, green building, innovative approaches, green design, efficient solutions for the pollution and waste decline in different areas of natural systems.
Meso-level includes studies on industrial ecology and cover topics like eco-industrial parks, green logistics,

landscape reclamation

, green supply chain management policies and others.
Macro level includes general policies related to the ecological balance and covers studies on environmental policies for circular economy, green production, green consumption, industrial sustainability, sustainable cities and urban design, green infrastructure, circular economy infrastructure, public infrastructure for circular economy.
About Publication;
Abstracts will be published in the proceedings entitled CES II- Circular Economy Series II: International Conference Proceedings, in electronic format. Selected papers will have opportunity to be published in one of the following journal and books;
Lexington Books (ENG)
Yeditepe University Press (TR)
Important Deadlines

Abstract Submission (200 words)

14 October 2022

Notification of Manuscript Acceptance

21 October 2022

Full Paper Submission

11 November 2022
Send your abstract (200 words) to: yuvam@yeditepe.edu.tr
| | | |
| --- | --- | --- |
| Registration Fees (VAT included): | Early Bird Registration Deadline (23 October) |  Late Registration Deadline (14 November) |
| Regular presentation | 550 TL | 650 TL |
| International participants with presentation (online) | 50 euro | 70 euro |
| Attendance only | 250 TL | 350 TL |
Executive Committee:
Co-Chair Prof. Natalya Ketenci (Yeditepe University, Economics Department)
Co-Chair Dr. Ayşe Sevencan (Yeditepe University, Economics Department)
Dr. Özgür Köylüoğlu (Yeditepe University, Civil Engineering Department)
Dr. Barış Gençer Baykan (Yeditepe University, Public Administration Department)
Dr. Hande Tek Turan (Yeditepe University, Public Administration Department)
Dr. Emre Çelebi (Yeditepe University, Industrial Engineering Department)
Scientific Committee:
Assoc. Prof. Özlem Üstün Güçlüdağ (Yeditepe University, Food Engineering Department)
Assoc. Prof . Ahmet Özçam (Yeditepe University, Economics Department)
Dr. Tomris Akdoğan (Yeditepe University, Economics Department)
Prof. Natalya Ketenci (Yeditepe University, Economics Department)
Dr. Ayşe Sevencan (Yeditepe University, Economics Department)
Dr. Özgür Köylüoğlu (Yeditepe University, Civil Engineering Department)
Dr. Barış Gençer Baykan (Yeditepe University, Public Administration Department)
Dr. Hande Tek Turan (Yeditepe University, Public Administration Department)
Dr. Emre Çelebi (Yeditepe University, Industrial Engineering Department)
Prof. Viorel Ungureanu (Politehnica University of Timisoarai, Department of Steel Structures and Structural Mechanics)
Dr. Esin Yücel Karamustafa (Altınbaş University, School of Business, International Trade and Finance)
Assoc. Prof. Deniz Palalar Alkan (Yeditepe University, Business Administration Department)
Dr. Tamer Atabrut (Boğaziçi University, Lifelong Learning Center)
Prof. Yelena Kalyuzhnova (Henley Business School, University of Reading)
Dr. Irina Heim (Henley Business School, University of Reading)
Assoc. Prof. Tuba Şavlı İbiş (Yeditepe University, Business Administration Department)
Assoc. Prof. Dababrata Chowdhury (University of Suffolk, Entrepreneurship and Knowledge Management)
Assoc. Prof. Alper Altınanahtar (Yeditepe University, Economics Department)
Partner & Contributors: